It can be difficult to dress yourself when you're a busty girl, so we broke down some do's and don'ts of what to wear when you have big boobs.
So you were #Blessed and have those letters everyone swoons over: Ds (or maybe even DDDs). Boys' eyes follow and girls tell you how jealous they are, but at the end of the day they may not feel like much of a blessing. Being well-endowed is hard and a lot of hard things like back pain and clothing them come with it. Don't worry, we're here to help (at least with the shopping).
Here are the Do's and Don'ts of dressing those DD+ ladies.
DO GET SOME GREAT BRAS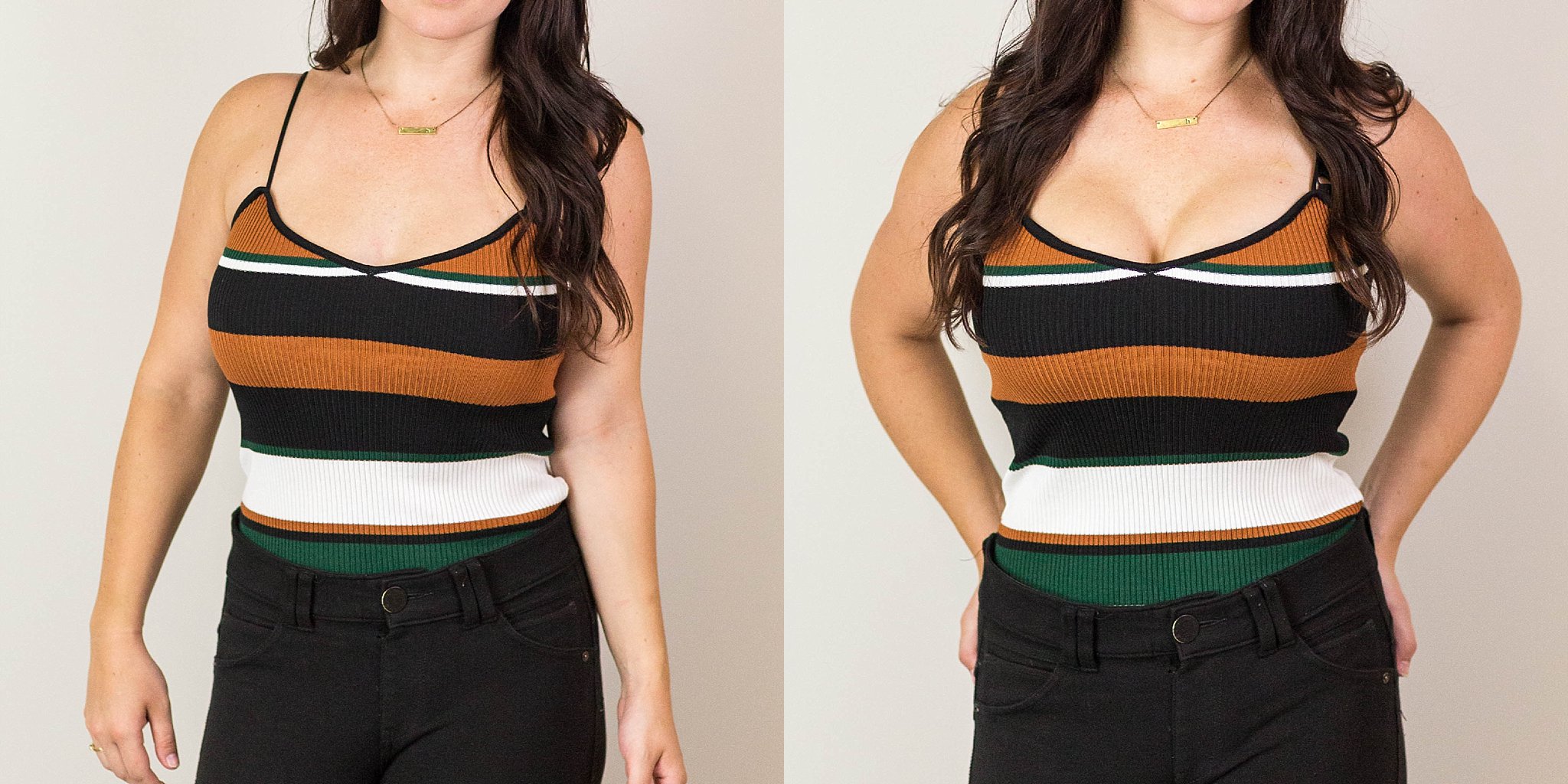 A great bra makes all of the difference when you put on a piece of clothing! It may cost you $60-$80 a pop to get one that does the job right, but trust me they are worth it. The right bra (that's the right size) can totally change how clothing fits. Consider getting one that gives the ladies a boost and one that tames things down when you want to avoid excessive cleavage (the picture above shows a strapless and regular bra). Find a brand that works for you. Personally, I like Victoria's Secret because they always have my size in every style and I can easily order online if I want it in a different color. Soma is a great option too, however they may not be as cute and trendy. But remember, we want functionality first. Since our bras tend to be 2-3x more than an A or B cup, it's important get the basic colors of nude and black before you spend money on pink polka dots.
DON'T BE AFRAID TO CREATE YOUR OWN WAISTLINE
Potato sack syndrome is a thing every busty girl deals with. You find a cute dress but your boobs pull it so far away from your body that it looks like you're wearing a potato sack or trying to hide a pregnancy. Belts and jackets can be your best friend in this case. Trendy belts can pull the dress into your waist and show off that hourglass figure, or at least give the illusion that you have one. A cropped jacket that hits you just right creates the illusion of your waistline without having to feel constricted.
DO STRUCTURED PIECES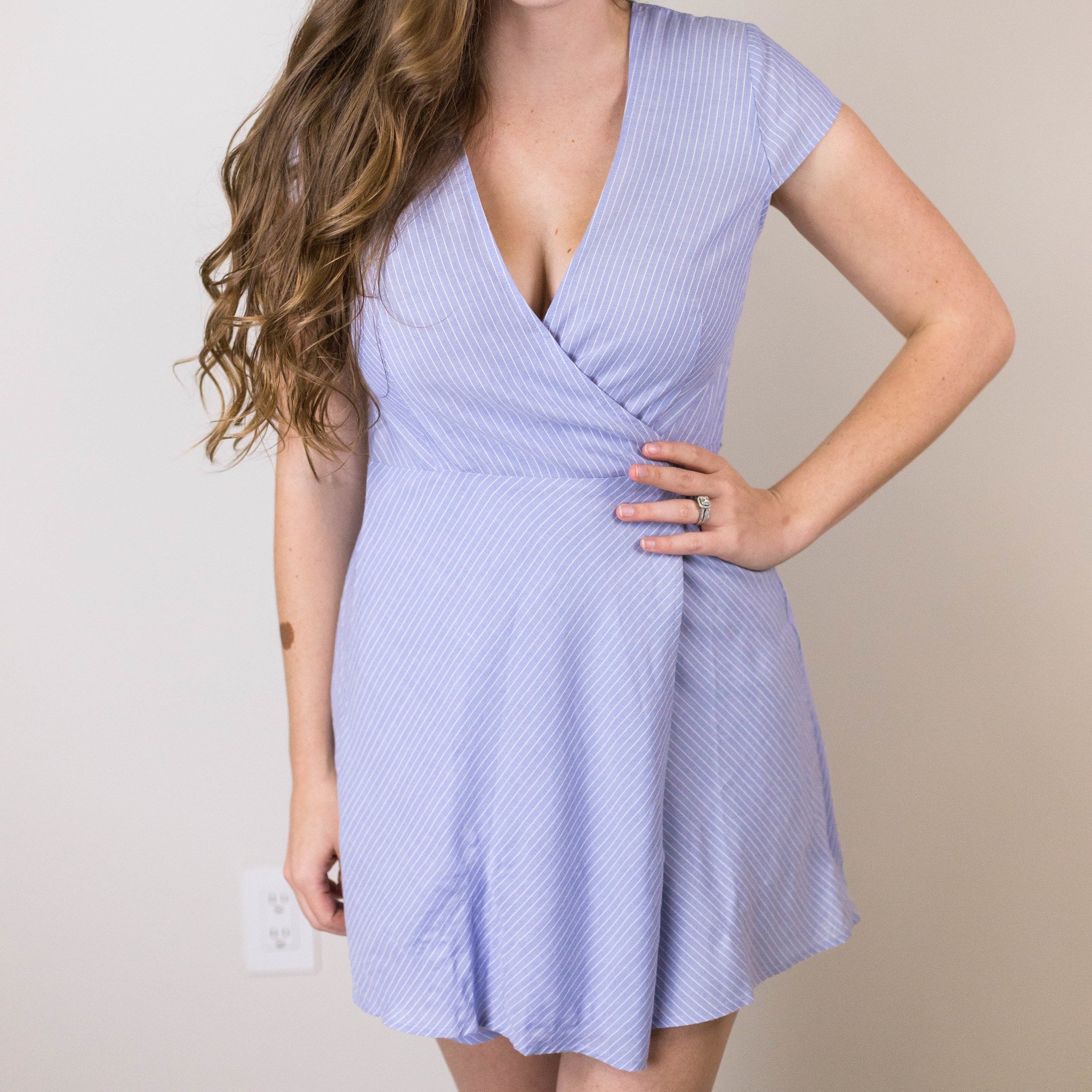 Finding structured pieces that fit your bust and waist well is probably one of the most difficult things to do when shopping, but it's also one of the most rewarding and flattering. Structured pieces define all of your beautiful lady curves without having to wear something skin tight. Take two sizes to the dressing room when you try these items on because you never know how it will fit and where the stitching will hit you.
DON'T COMMIT TO ONE SIZE

Remember what I just said about taking more than one size into the dressing room? That's because unlike men's clothing, there's no rhyme or reason to women's clothing sizes. Example A: the photo above. You're looking at the same girl in a size small, medium, and large top. The brand's size standards, the fabric, and the fit of the item all influence how it lays on your body. So if you typically go for a medium, pull a medium and a small or large off the rack depending on how it looks like it might fit. Don't be discouraged if you have to go up a size because the only person that knows the size is you and the girl at the register. No one is judging and no one cares. It's more important to have a good fit and that you feel comfortable and confident, rather than trying to squeeze the ladies into something that's obviously too small.
DO FITTED BOTTOMS WITH FLOWY TOPS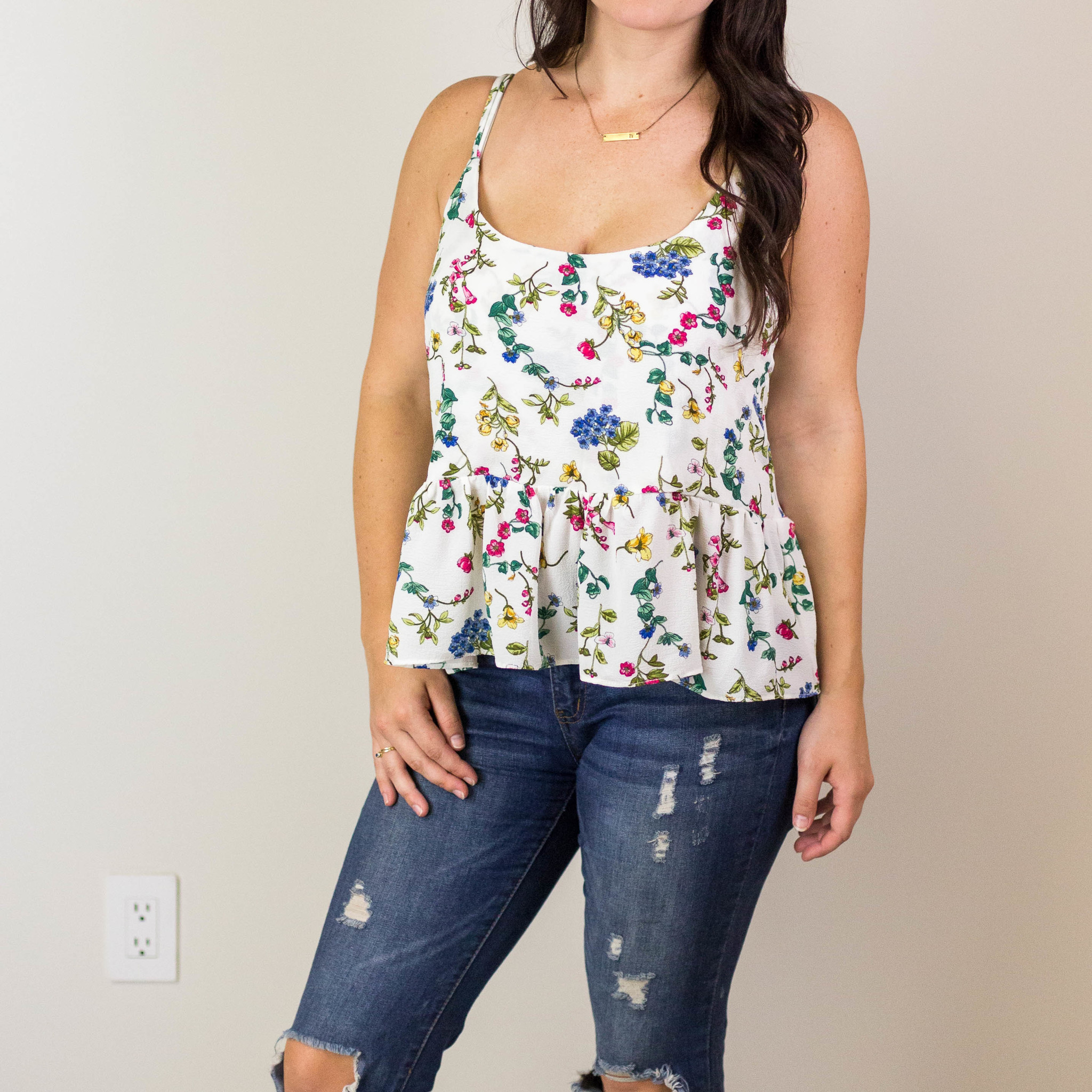 Don't assume that a flowy top will make you look frumpy. The key is to pair it with well fitted bottoms to give yourself shape and balance out the flowy top. Again, it's always worth trying on. Sometimes you just don't want something that clings to your boobs and stomach (aka the day after binge drinking & fourth meal). If you want something that pulls away from your body, look for tops that will stop around your belt line. Anything longer and you start to create the potato sack look again and you run the risk of making your hips look bigger. If you're in love with a top but it's a bit too long, try tucking one side in the front to create dimension and shape.
DON'T SHY AWAY FROM TRENDY PIECES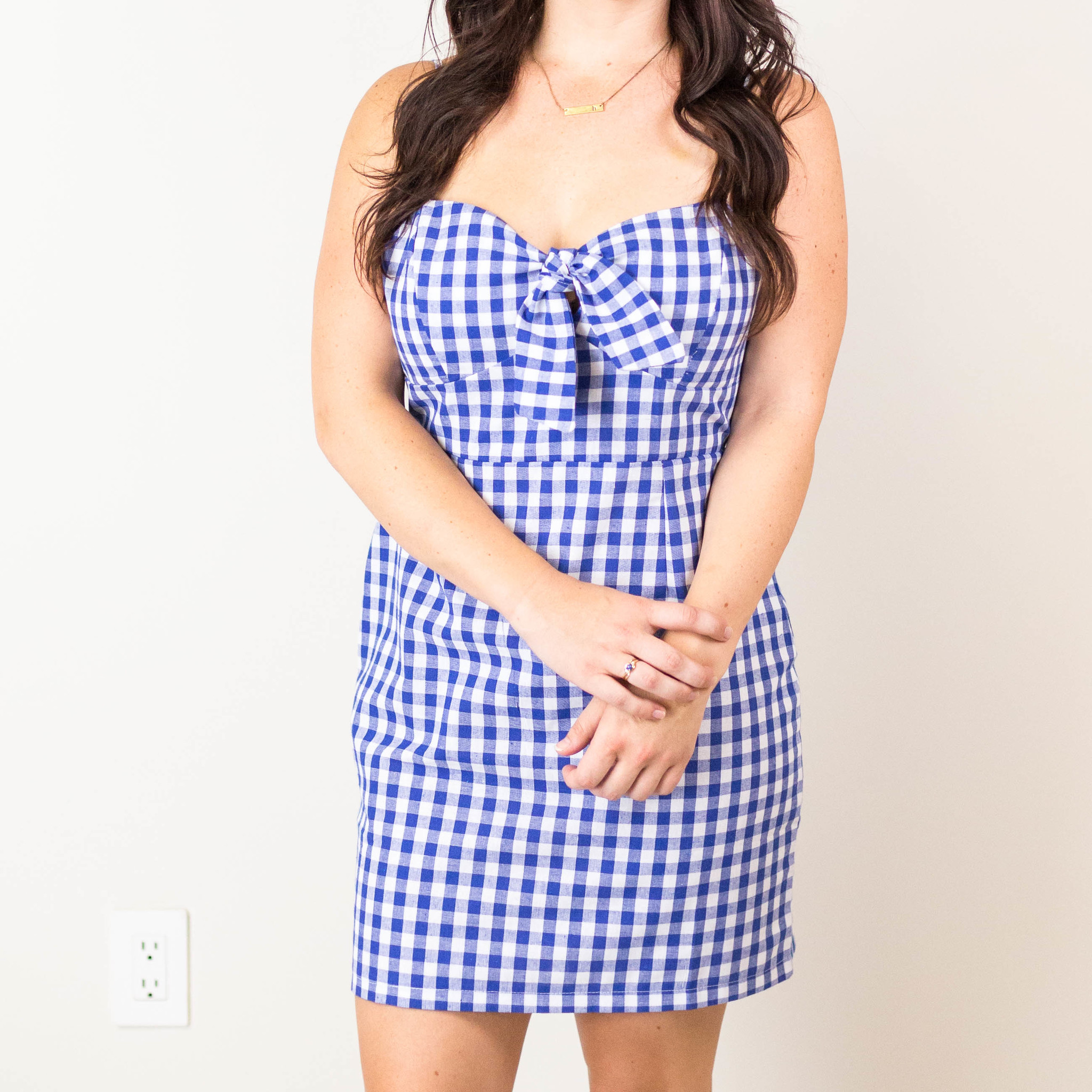 Girl, I get it. When you're busty it seems like even looking at trendy items is a waste of time. Especially during the summer because all the trends seem to point to tiny rompers and two-piece sets with open back tops. But there is hope. It might fit better than you anticipated. And don't be afraid to think outside the box. How would it look with a jacket on or layered under another piece? Don't be afraid of patterns either. Who said that busty girls can't wear stripes or checkered patterns? The key is to find one that is flattering and has structure so it doesn't create the illusion that your entire body is significantly bigger than it actually is.
DO ACCESSORIES TO DRAW ATTENTION ELSEWHERE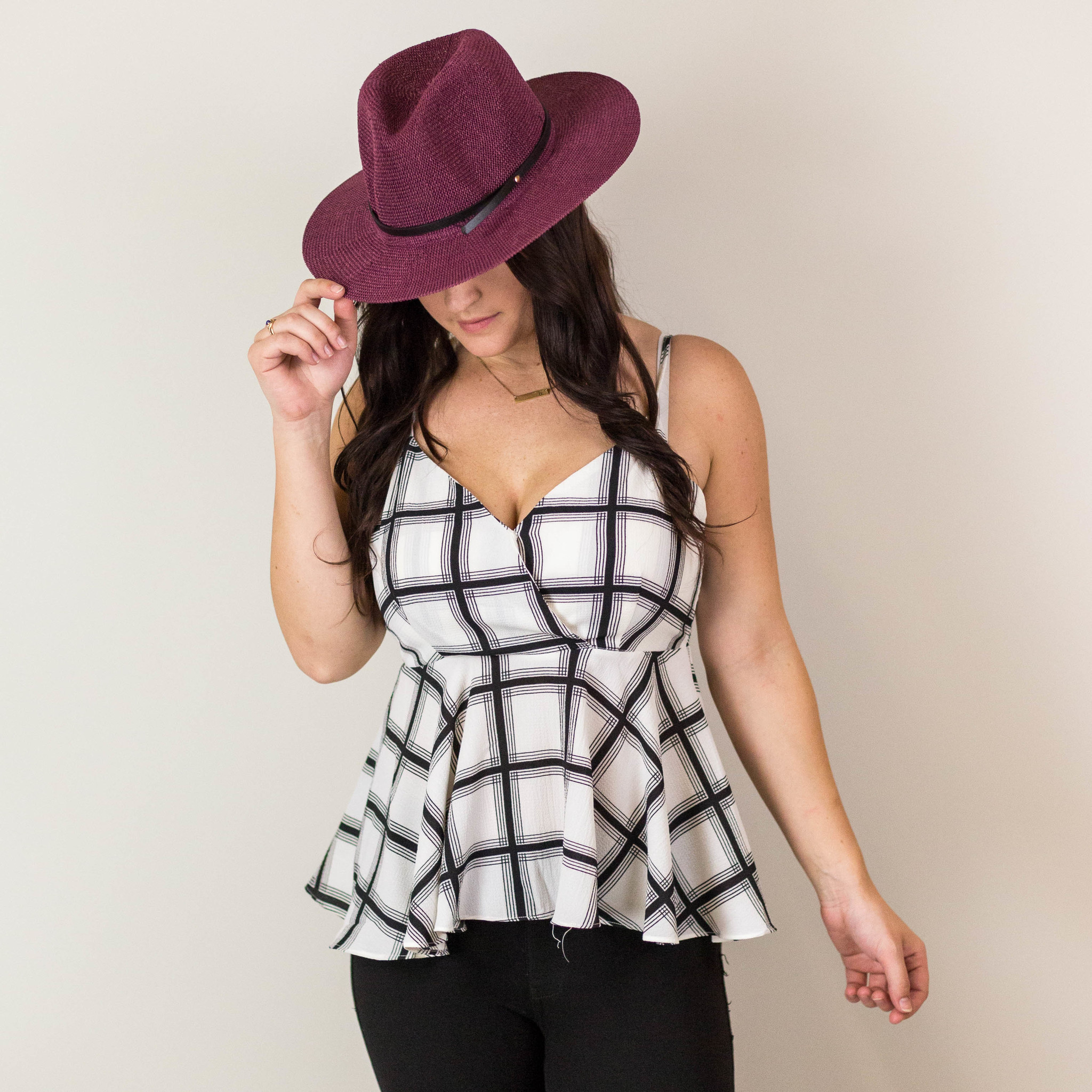 Some days you really want to wear that cute top hanging in your closet, but it draws a little more attention to the ladies than you want. Accessorize! Bold accessories like big earrings, bright shoes, or a hat draw the eye away from your biggest head turner. Be bold, be brave and buy that accessory that turns all the heads.
DON'T BE AFRAID TO EMBRACE THEM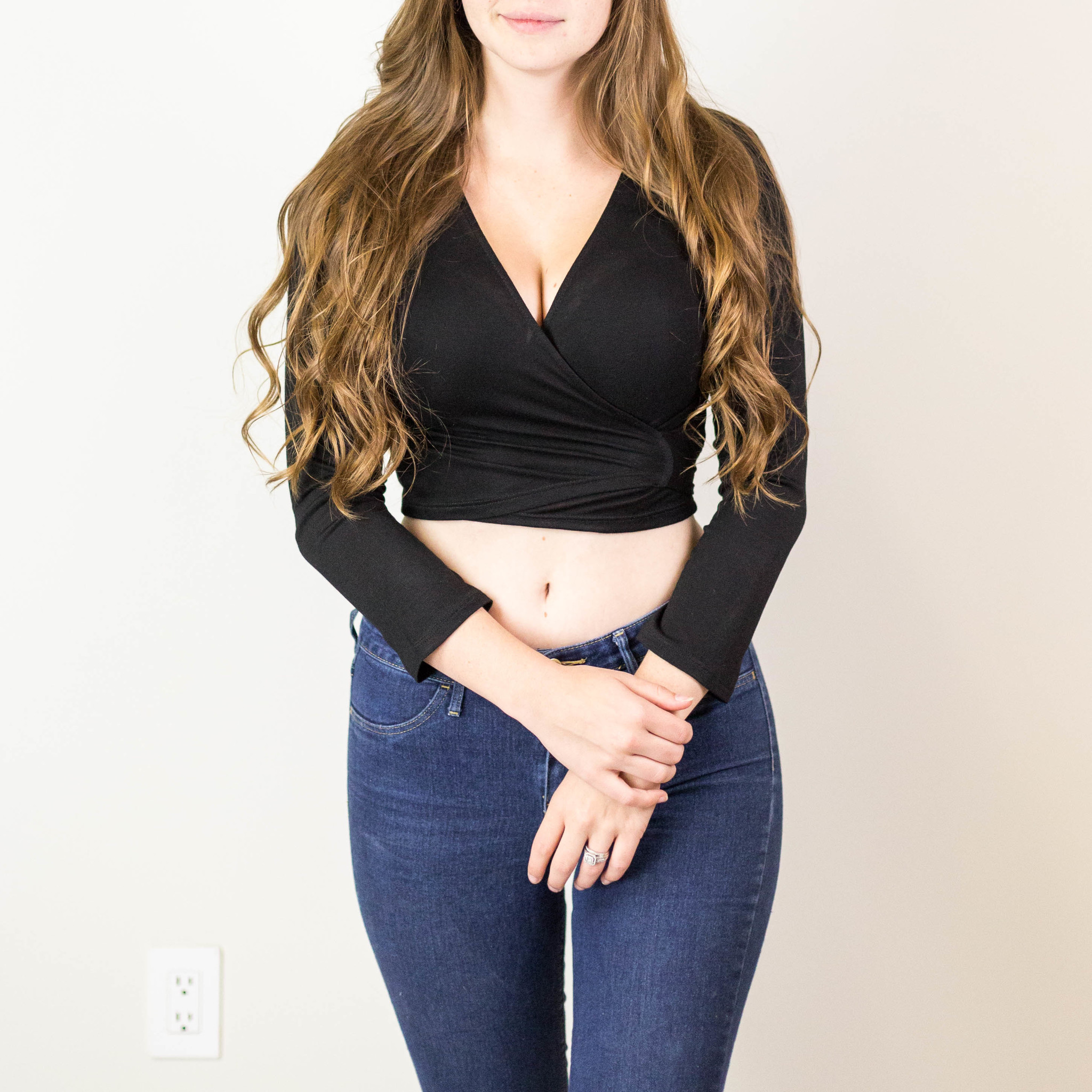 As Hailee Steinfeld said, "Some girls, like to keep their physique real private. Some girls, wear jeans so tight, 'cause it feels so right, yeah." So whether you like to keep the ladies private or show them off, you do you girl. If you want to show them off, look for items that pull them in and define them. It's possible to show them off without looking like you're going to the club. Sleeves and jeans can balance out a lot of cleavage. But if you want all to show all the cleavage, stomach and legs, then get it girl!


MY BEST ADVICE: TRY IT ON!
Some pieces completely transform once they're taken off the hanger and put on your body. And you never know, some of them might surprise you. A dress that you thought no way would fit the ladies, just might be perfect. Keep in mind how much a bra changes things. Don't be afraid to take your bra off to get a better idea of how it might fit with a strapless or thinner bra.